Interesting Facts
SOME INTERESTING, WIERD, STRANGE FACTS THAT WILL AMUSE YOU
You are about to learn some seriously interesting facts You Never Knew, it will Totally Blow Your Mind
Each king in a deck of playing cards represents a great king from history:
Spades-King David
Hearts-Charlemagne
Clubs-Alexander, the Great
Diamonds-Julius Caesar.


Calulation of 111111111*111111111 will give you answer 12345678987654321



Right-handed people live, on average, nine years longer than left-handed people do.





The ant can lift 50 times its own weight, can pull 30 times its own weight and always falls over on its right side when intoxicated.





Mosquito repellents don't repel. They hide you. The spray blocks the mosquito's sensors so they don't know you're there.





No piece of paper can be folded in half more than 7 times





You burn more calories sleeping than you do watching television.





Venus is the only planet that rotates clockwise





Elephants are the only animals that can't jump.





A snail can sleep for three years.





Ants never sleep in their wholelife





Months that begin on a Sunday will always have a "Friday the 13th.





Camels have three eyelids to protect themselves from blowing sand.





Abdul Kassam Ismael, Grand Vizier of Persia in the tenth century, carried his library with him wherever he went. Four hundred camels carried the 117,000 volumes





TYPEWRITER is the longest word that can be made using the letters only on one row of the keyboard.





The most common name in the world is Mohammed





A reward of $1,000 was offered for information leading to the capture and conviction of a man robbing taxi drivers. The man turned himself in and demanded the reward as a result. He received a 20 year sentence for aggravated robbery instead.





A monkey's skull wrapped in leather and paper was used as a soccer ball in the very first World's Cup Soccer Championships in Uruguay.





The world's tallest man ever recorded in the history of mankind - Robert Wadlow, was born in Alton, Illinois, in 1918, and was 6 feet tall by the time he was even eight years old. This was caused by a pituitary gland tumor that excretes large amounts of growth hormone, resulting in the disorder that is technically called as acromegalic gigantism. He reached a final height of 8 feet 11 inches at the age of twenty-one years, and finally died of an inflamed leg





The Titanic was the first ship to use the SOS signal.





Chewing gum while peeling onions will keep you from crying





The average person laughs 13 times a day.





Your left lung is smaller than your right lung to make room for your heart.





Large kangaroos cover more than 30 feet with each jump.





Women blink nearly twice as much as men.





The color blue has a calming effect. It causes the brain to release calming hormones





Elephants can't jump.





An elephant's heart weighs around 30 pounds. And a human heart? A mere 10 ounces.





Bats are the only mammal that can actually fly.





Cows don't actually have four stomachs; they have one stomach with four compartments





Mosquitoes are the deadliest animal in the world: They kill more people than any other creature, due to the diseases they carry





The hardest working muscle in your body is your heart, it pumps more than 2,000 gallons of blood a day and beats more than 2.5 billion times in a 70-year life span





There are no muscles in your fingers: Their function is controlled by muscles in your palms and arms





According to recent research, the human nose can distinguish at least a trillion different odors





The tallest building in the world is the Burg Khalifa in Dubai, standing at over 2,700 feet





German Shepherds bite humans more than any other breed of dog.





The human heart creates enough pressure while pumping to squirt blood 30 feet!!





The electric chair was invented by a dentist.





The cigarette lighter was invented before the match





Men's shirts have the buttons on the right, but women's shirts have the buttons on the left.





The reason honey is so easy to digest is that it's already been digested by a bee





Every time you sneeze some of your brain cells die.





Human hair and fingernails continue to grow after death.





Most soccer players run 7 miles in a game.





The only 2 animals that can see behind itself without turning its head are the rabbit and the parrot.





The only part of the body that has no blood supply is the cornea in the eye. It takes in oxygen directly from the air.





Colgate faced big obstacle marketing toothpaste in Spanish speaking countries. Colgate translates into the command "go hang yourself"




Entertainment Section at Mumbaijunction.com
FILM STAR AND CELEBRITIES BIRTHDAY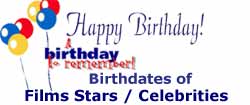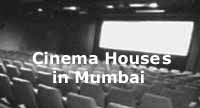 Intresting Facts
Valentine Messages for somone special
Directory Section