Mumbai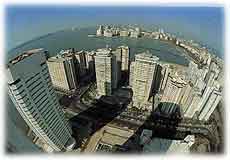 The group of islands, Colaba, Mahim, Parel, Mazagaon, Old Woman's Island, Wadala, and Matunga-Sion where joined together to form Bombay which was later named as "Mumbai". Mumbai also the capital of Maharashtra lies on the wonderful west coast of India. The city was named after the local deity, "Mumbadevi". Mumbai withness the first railway which ran on 21 mile long railway line on Saturday 16th of April, 1853 between Bombay's Victoria Terminus & Thana. On the edge of the Arabian Sea is the port city of Mumbai. Mumbai is responsible for half of India's foreign trade. The Population of Mumbai is nearly 18.7 million of which some are top industrialists, film stars, artists, workers, officers, managers, tailors, policeman, teachers and clerks. The People of Mumbai come from diverse ethnic backgrounds who speak over a dozen of languages adding colour & flavour to diversified city of Mumbai. Major tourism attractions in Mumbai are Nehru Planterium, Elephanta Caves, Gateway of India, Taj Mahal Hotel, Chowpaty, Victoria Terminus (Chattrapati Shivaji Terminus), Prince of Wales Museum, Jijamata Udhayan, National Park, & Juhu Beach.
Festivals of mumbai
Mumbai celebrates all the festivals with as much grace and goodwill. With people of all religions residing here, every festival is way of celebration yet Mumbai's Ganesh Chaturthi is the biggest festival celebrated here. With holidays to schools and colleges for 5 days owing to the celebrations and the constant dhol and aarti across streets, Ganesh Utsav is a big deal for the Mumbaikars. People worship idols of Lord Ganesh that are made up of clay or bought from shops and divulge in it completely. Lalbaug is one of the most famous Ganesh UtsavPandal in Mumbai.
Tourist Attractions
Some of the most commonly visited tourist places in Mumbai are Juhu Beach, the Queen's necklace or Marine Drive, Gateway of India, Hotel Taj, Haji Ali Dargah, Mahalaxmi temple, Siddhivinayak temple and many more. These are not just tourist places but are regularly visited by the local residents and are crowded most of the times. There are a number of cricket stadiums here, one of them being the Wankhede stadium that homes The Board of Control for Cricket in India (BCCI).
Local Trains
If Mumbai is the heart, Local trains are its veins. Literally the entire Mumbai commutes through the local trains. Spreading across the city and connecting one place to the other, they make Mumbai move on its toes.
Street Food
Every city is known for the different range of flavours it provides to the people through its street food. Mumbai is no less. VadaPao, MisalPao, KeemaPao, Panipuri, chaat and ice golas are a treat to one's taste buds. Very cheap and mostly hygienic, these street foods are like proper meals to Mumbaikars. Once you get the taste of it, you'll crave it for your life.
Mumbai Rains
Mumbai rains are something to root for. Mumbaikars enjoy every bit of it with high spirits. From having a bumpy ride to office through the potholes to getting wet while hanging on the doors of local trains, Mumbai never stops. The kind of enthusiasm Mumbaikars have for rains is incomparable. One may find stalls on the streets crowded during heavy rains with people enjoying the Chai and Pakoda.
Information
Marathi, Gujarati, Hindi, English & All Other Indian Languages.
Lonavala (108 kms.), Pune (188 kms.),Nasik (165 kms.), Goa (582 kms.)
Latitude - 18º 53' North, Longitude - 72º 50' East
Legislative Assembly Seats
Legislative Council Seats
Shri Bhagat Singh Koshyari

मुख्यमंत्री मा. श्री. एकनाथ संभाजी शिंदे - Shri.Eknath Sambhaji Shinde (30 June 2022).
Shri. Radhakrishna Vikhe Patil .
Municipal commissioner बृहन्मुंबई महानगर पालिका
Mumbai Police Commissioner
Vivek Phansalkar ( I.P.S ) Commissioner of Police, Mumbai
Coailation Govt of Shivsena, BJP
Political Parties in Maharashtra

Maharashtra Navnirman Sena
Party Chairperson / Founded By: Maharastrahrudaysamrat Shri. Rajsaheb Thackeray
\ Founded: 9 March 2006

Nationalist Congress Party (NCP)
President : Lokpriyanete Shri Sharad Pawar
Founded : 25th May 1999

Shiv Sena (S.S.)
Executive President : Shri Uddhav Bal Thackeray
Founded By : Hinduhrudaysamrat Shri Balasaheb Thackeray
Founded on: 19 June 1966

Republican Party of India (Athvale)
Chairman: Shri Ramdasji Athavale
Why Mumbai is Awesome ?
Mumbai has Best & Largest Rail Network in India.

Its a Financial Capital.

Fashion Street to Buy Latest Designed Clothes.

Its Famous for Vadapav which you can get everywhere all over Mumbai

National Park at Borivali to Relax

Play Cricket, Foot ball and also a Great Green Cover at Five Gardens at Wadala

Amazing and Safe Night Life

Bollywood, Most Films Actors live in Mumbai.

Diwali,Ganpati,Navratri, Eid, Christmas Festivals etc are celebrated with Fan-fare

Juhu Beach, Gateway of India, Shivaji Park are Best Locations to Go during Weekends and Holidays